Located about 98.8km from Labasa town and nestled above Lagi Bay and around the hilly terrains of Udu District, Duavata Primary and Secondary School students were appreciative of the fact that a team from Parliament came all the way to their school for the 'Parliament Bus programme'. The programme is an educational initiative of Parliament which helps students and communities all over Fiji understand how Parliament operates and how they can be actively involved in the Parliamentary process.
The team, which consisted of Masilina Raumakita (Senior Civic Education Officer), Bale Dolokoto (Senior Media Officer), Iliesa Raiduduva (Civic Education officer), Mitieli Uculoa (IT Officer) and Naibuka Mekemeke (Support staff/driver), left Labasa at 6am and arrived at the Qaranivai landing two and a half hours later after many stops and diversions. The team was new to the area and traversed through the main road which ended up at Wainigadru village and later returned to travel through the Lagi village junction. The team reached Lagi village, then were advised to follow the junction that leads to Qaranivai landing where the school boat was waiting.
The trip from Qaranivai landing to Duavata Secondary School was about 15minutes and the weather was perfect as the team cruised across Lagi Bay. The school management team assisted the staff in the carting of equipment and educational materials uphill to where the school was located.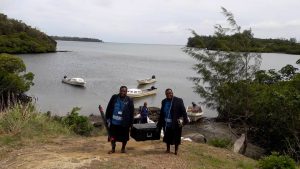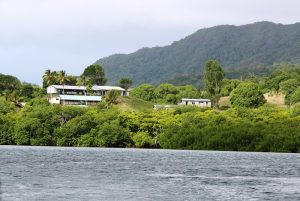 Parliament staff Mitieli Uculoa and Iliesa Raiduduva carrying educational materials 'uphill'…Lagi Bay in the background.
The sight of students' and parents' happy faces was a big relief to the team as they were already exhausted after visiting schools and communities throughout the two weeks, conducting Parliament outreach programmes in the Macuata Province before the travel to Duavata.
Duavata Secondary School principal Mr Mukesh Shandil said his students were fortunate to learn about Parliament as basic connectivity to access information is limited in the area.
"The programme has been a very good one especially in this rural area where students have no access to normal television programmes where they see how Parliament operates.
"It has been beneficial and an eye-opener in terms of students' knowledge about Parliament, how it is set-up and how Members of Parliament behave.
"After all, the programme will greatly assist them in their upcoming exams," Mr Shandil said.
The only mode of transport from nearby villages is by boat so the school has boarding facilities which caters for students from other remote villages. Ninety percent of the students are from Cawaro, Nukusa, Nukudamu, Vunikodi, Qaranivai and Lagi villages in the district of Udu.
Year 13 student Jonetani Sauwaqa said the students, parents and teachers were glad that this programme was brought to his district.
"We are quite fortunate to learn about Parliament as it's the first time for many of us to learn how Parliament operates and how the Speaker conducts her duties".
"I hope that one day students and teachers of Duavata Secondary will visit Parliament."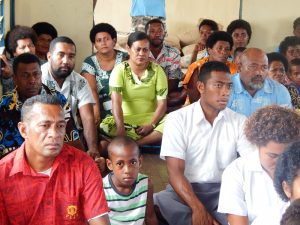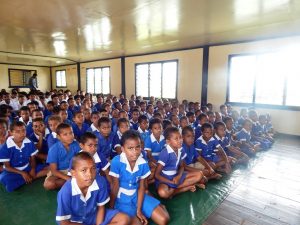 Year 13 student Jonetani Sauwaqa (white shirt) amongst parents and children listening to the presentation on Parliament. Students of Duavata Primary School were also part of the Parliament Bus programme.
Whilst at Duavata Secondary School, the only nearby village was Cawaro which the team also visited.
Men and women gathered in the village headman's house to learn about Parliament.
75-year old Sisa Radri said this was the first time a team from Parliament has ever visited his village.
"The programme was good as it helped us understand how Parliament operates," Radri said.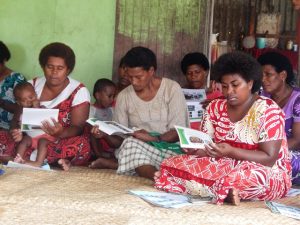 75-year old Sisa Radri (yellow shirt) looking through the handouts during the presentation. Women and children were also present.

Prior to the visit to the Udu district, the team was at Dreketi District visiting Ahmadiyya Muslim College and Dreketi Central College.
Dreketi Central College Principal Mr Emosi Kuli thanked the Speaker of Parliament for the initiative in taking Parliament to the rural areas.
"We are far away from Parliament and this programme is a wonderful experience for our children, particularly to our Year 10 as Parliament is covered in their Social Science syllabi.
"Not only that, other students may have seen it in television, heard it on the radio and other media, but to bring the 'Parliament Bus' programme over to Dreketi for them to actually see it and hear it directly from the people working there, is an awesome experience for them."
Mr Kuli highlighted that this programme will also encourage students to become future Members of Parliament as it is a great motivating exercise, especially for students in Vanua Levu.
"This is a positive initiative and we hope that this programme will be repeated in a lapse of two or three years so that students are regularly informed about Parliament," Mr Kuli added.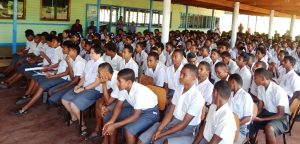 Students of Dreketi Central College listening attentively to the Teams presentation.
During the two-week outreach in Macuata Province, a total of twenty one schools and seven villages were visited.
They were Labasa College, Labasa Sangam (SKM) College, Holy Family Secondary School, Shree Guru Nanak Khalsa College, Naduna Technical College, Vunimoli Secondary School, Batinimaka Secondary School, Bulileka Sanatan College, Valebasoga Secondary School, Nadogo Central College, Nadogo Technical College, Naleba College, All Saints Secondary School, Labasa Muslim College, Tabia College, Nabala Secondary School, Seaqaqa Central College, Ahmadiya Muslim College, Dreketi Central College, Duavata Primary School and Duavata Secondary School.
The villages visited were Cawaro, Korovuli, Navesidrua, Vuo, Bulileka, Vunimoli and Raviravi.
-End-